How to Afford an Augmented Reality Solution as a Small Business
So you want to implement an augmented reality solution. Maybe you've got an e-commerce store selling products where the aesthetic and dimensions matter, such as furniture and décor, or you're an artist who wants to add extra value to their artworks, or you are about to launch a promotional campaign and want it to appeal to your audience.
The ideas are big, the budgets are small.
Whatever the case, you have an innovation-oriented mindset, you know that immersive technology can enhance your customer experience and you're ready to create your custom augmented reality solution.
Here's the thing: augmented reality solutions often involve hyper-realistic 3D modelling and app development, which can be costly for a small business with a small budget.
Perhaps, when you go digging and the rates pop up way over your budget, it feels like elaborate augmented reality solutions are just too out of range for small businesses.
They don't have to be. In fact:
There's a massive opportunity right now for small businesses to start offering interactive augmented reality solutions and create winning customer experiences.
So, how do you afford augmented reality solutions on a tight budget?
That's exactly what I'm going to tell you today.
First, though, how do I know that the above is true, i.e., that custom augmented reality solutions can be affordable for small businesses?
As a full-time AR consultant, each day I get to talk to many early-stage startup owners, marketing managers and visual merchandisers who seek ways to implement innovative solutions to reserve their seats in the highly competitive world of visual marketing and draw up custom plans within specific budgets.
I have networked with other industry experts who share a mutual goal to create tools and technologies that make augmented reality development — from asset creation to real-world interaction— better and more affordable.
With the right plan, even small businesses can develop efficient and cost-effective augmented reality solutions that solve a problem, answer a question or relieve a pinch-point.
Here's a list of budget-friendly augmented reality development ideas you should consider when thinking about starting an AR solution.
Start Small
How small? As small as 3.5" x 2", i.e. the size of your standard business card.
Before adding complex AR functionality to your online store or
campaign, you can start by adding interactive AR components to
your business card. Whether it's a video showcasing your product line or a personal message from the CEO, augmented reality can make your otherwise obsolete business card relevant again.
Watch this Augmented Reality business card video example.
The extra content will also add extra value to your business card.
Since physical cards have limited space, these virtual components are an easy, innovative way to expand the amount of information they can contain. You can even include interactive buttons leading to your web pages or making a Facetime call.
The hidden content of the business card is triggered by an AR visualization app.
Start with One Product and Test It
When it comes to showcasing your products in AR, Katelyn Coghlan, the GM of Mezmos, a Glimpse Group Subsidiary, recommends:
"Start with one product that can have a mini-campaign built around it. Maybe it's a new product, maybe it's a product that hasn't moved in a while, but use a product that has a story attached to it that the business wants to tell."
You will need to create a 3D model of the product (more on that below) and place it into an augmented reality experience on a platform that makes sense based on your business' goals.
This can also be a great way to begin to assess the impact an AR activation has on customer engagement and sales.
Try Cost-Friendly Options of 3D Asset Development
As custom 3D modelling is highly detailed and time-consuming work, it can be costly and not affordable especially if you are planning to develop many assets on one go. Luckily there are alternatives.
Depending on your business' product offering, there are two paths
you can take when exploring 3D modelling:
Photogrammetry
Optimization of existing 3D data
Photogrammetry is the process of taking multiple photographs of a product from multiple angles and stitching them together to create a hyper-realistic 3D model. This is a great solution for businesses that have smaller products, or those with a lot of details.
Almost certainly you already own the most important piece of equipment
– your smartphone camera. This means that photogrammetry is extremely affordable, as the only extra you need is photogrammetry software to create a 3D file from your photographs.
There are various free and paid software options to generate 3D models with the help of photogrammetry. So a bit of research should lead you to the right place.
In the case of larger-scale products, like furniture, photogrammetry may not be useful especially if the goal is to scale up quickly.
However, such products often have 3D data — such as AutoCAD data — that can be optimized and loaded into an AR experience, preserving all of the product elements.
Use Video Content Instead of 3D Content
If you are thinking "but those are incomparable", you are right for the most part. 3D is what enhances the appealing power of augmented reality by creating an illusion of objects appearing in your real environment.
But hey, we are talking affordability and video content can be a good substitute and even a great fit for particular cases.
Let's consider this bottle of gin that showcases its uses in recipes for the preparation of various cocktails.
Watch this video example using Augmented Reality in video content.
It has created amazing value for customers by providing them with a hands-on tool that shows how different combinations can be achieved.
What's also great about video content is that you probably already
have a lot or can create some easy, and most AR visualization tools just require a tiny monthly fee for video activations.
Choose the Right Platform for Your AR Experience
At the moment there are three main channels AR can live on:
App
Social media
The web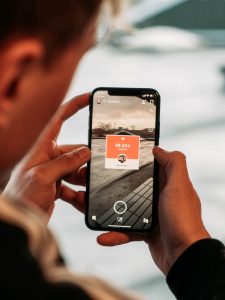 If your business already has an app and you want to increase downloads and engagement — or if you want to create a brand new app — adding augmented reality is a great way to do that.
App-based augmented reality solutions have the most freedom when it comes to complex interactivity and an opportunity to differentiate you from your
competitors, but there is a barrier to entry with the need to download.
However, apps don't just have to be for consumers, they make great sales tools for salesforces who need to show products outside the confines of an office or a store.
Instagram, Facebook, and Snapchat all have AR capabilities and all reach slightly different audiences, increasing the exposure of products.
There are also different functionality capabilities for each platform.
For instance, Facebook can detect images and product packaging, whereas Snapchat has the option to shop for products within the carousel. With the recent partnership between Facebook's AR platform — Spark AR — and Sketchfab — the giant 3D content platform — building augmented reality experiences in social media has become dramatically easier and more affordable as a ton of 3D assets can now be added and customized in your own experience.
These options are great for businesses who already get a decent amount of traffic from their social media channels, and who want some interactivity without the barrier of downloading an additional app (social media apps are usually installed on users' devices).
Web-based augmented reality is the most basic solution for AR but also has the largest reach due to the fact that it does not require an app download to view.
With Web AR, banner ads can now feature 3D assets that can be placed in the physical world, but without any additional interactivity, nor any call-to-action to buy the product. This solution is great for businesses who invest a lot of money into web banner advertising and want to differentiate themselves from their competitors who do the same ad buy.
All of these platforms offer different pricing plans and are reasonably affordable, depending on your needs.
Integrate Augmented Reality Functionality into Your App
If your business already has an existing app, you might want to find out whether it is possible to integrate augmented reality functionality into it.
For instance, if you have an app that sells wristwatches, AR try-on functionality can be added to help your customers get a full understanding of the watch size and style and whether it fits their wrist.
Your AR development company will ask a few screening questions, such as whether or not your app is a native one, to find out if it is possible to integrate augmented reality into your existing app.
Naturally, this will be the most cost-effective way of creating app-based AR experiences. The costs are highly dependent on the complexity within your existing app's technical background.
In case you are only going to create your brand's app, you can take into account the technical specifications for it to be able to offer AR functionality. This will eliminate the need to later invest in making fundamental changes for your app to accommodate AR or building an entirely new app.
Use Ready-made AR Apps Instead of Building Your Own
To cut down costs even further, you can opt in to offering your products in niche augmented reality apps rather than integrating the functionality or creating your own app.
These apps serve as ready-made AR showrooms for different brands to offer virtual preview or try-on opportunities.
Here are a few examples of ready-made AR apps:
InteriAR — the app is a virtual showroom designed for previewing furniture and décor items in your real room to determine if they will actually fit into your space.
AR–Watches — a virtual showroom for trying on wristwatches.
Jarit — an app that allows users to preview dishes in 3D before ordering.
These apps combine a variety of brands and categories and can be deep-linked to your website for easy navigation between the two. What's more, you are not bound to make a sale through these showrooms (although you can); instead, users can be referred to your website for checkout.
Hopefully, these simple and easy-to-implement ideas will help you to plan your first (or next) AR campaign.

Key Takeaways
Start small: start with one product that can have a mini-campaign built around it to assess the impact an augmented reality activation has on customer engagement and sales.
Use video content instead of 3D content for cases that will benefit.
Offer your products in niche AR apps rather than integrating the functionality or creating your own app.
Do you have any other suggestions or questions? Share in comments.
Special thanks to our guest author!

Author: Nar Poghos
I am a digital nomad and web content writer bouncing between Europe and Asia. I have a passion for design, illustration, traveling, creativity and writing about futuristic technology.
I am the editor of Arloopa and a writer on Medium. I love producing meaningful content that educates and inspires people.